About Mike Sarge
Mike Sarge, an Atlanta native now residing in the paradise of Hawaii, is a multi-award-winning music artist, keynote speaker, and active duty service member. Known for his polished delivery and strong emphasis on cadence and wordplay, his work has featured on national television shows like All-American: Homecoming and CW's Good Trouble. Major platforms, including Rapzilla.com, Taxi Music, Ikon Pass, Trackstarz, and Marmoset, have spotlighted his unique talents. 
In addition to his music career, Mike is the Social Marketing Lead for Rise, a performance-based marketing platform trusted by prominent artists, labels, and publishers. He applies his ten years of music industry expertise to this role, helping elevate others in the creative space. 
Mike also runs a successful YouTube channel, Mike Sarge TV, boasting over 5,000 followers. Here, he facilitates authentic conversations about creating a brand, engaging on social media, mental health, stage performances, and more, sharing the insights he's gained over his career. 
Beyond his professional accomplishments, Mike's life serves as an "open book," offering dynamic and inspiring messages drawn from his personal experiences. His journey—marked by obstacles like bullying, lack of support, and scholastic struggles—resonates with many, reinforcing his influence both on and off stage.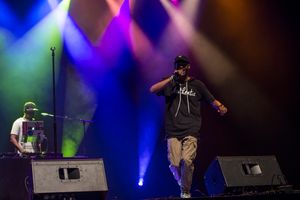 "

Sometimes, the people closest to you won't start supporting you until strangers start celebrating you!"
— Mike Sarge
Music
Blessed with the bop - Music video
Music Available on: Itunes, Spotify, Google Play & Tidal
(live)glowing ft. mike sarge
Music Available on: Itunes, Spotify, Google Play & Tidal
Motivational Speaking
Focused on being more than a rapper, Sarge's goal is to be an inspiration to those feeling like they could never reach their dreams. Whether it's a youth event or a conference focused on aspiring creatives/entrepreneurs, Mike Sarge makes it a point to speak on hard-work, passion, and leadership to those looking to do what they love.
This passion drove Mike Sarge to co-found, CRE8 Augusta - an organization that exists to influence, educate and empower creatives from all cultures and regions by providing the guidance and skills needed to overcome obstacles they may face chasing their passions.
Interested in Sarge speaking at your event?